ABOVE THE FRAY GALLERY
All items at Above the Fray Gallery are personally selected by Maren and Joshua directly from the independent artist or in village markets in Laos or Vietnam. Our personal relationship with many of the artists enhances our ability to represent the region's finest traditional art. Free shipping/insurance on orders over $100. (For orders under $100, shipping is $9.50.)
Our Book: "Silk Weavers of Hill Tribe Laos"
Above the Fray owners Joshua Hirschstein and Maren Beck authored a colorful introduction to and celebration of the Lao-Tai weavers and millennia-old weaving traditions of Houaphan Province in remote NE Laos. Photos by Joe Coca. Gold-medal winner of the 2018 Benjamin Franklin Awards (Travel).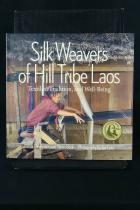 Item#: 1
Price: $34.95
have questions in regards to any of our items?
Contact Us With Any Questions You Might Have!